There is a scam going around impersonating every admin in our telegram channel with our brand name SoMee.
To be clear we are not doing an off-site airdrop of $onG or the $SAT token. Please be careful and NEVER send crypto or input your SEED phrases anywhere!
You will probably receive a telegram invite like the below from these scammers: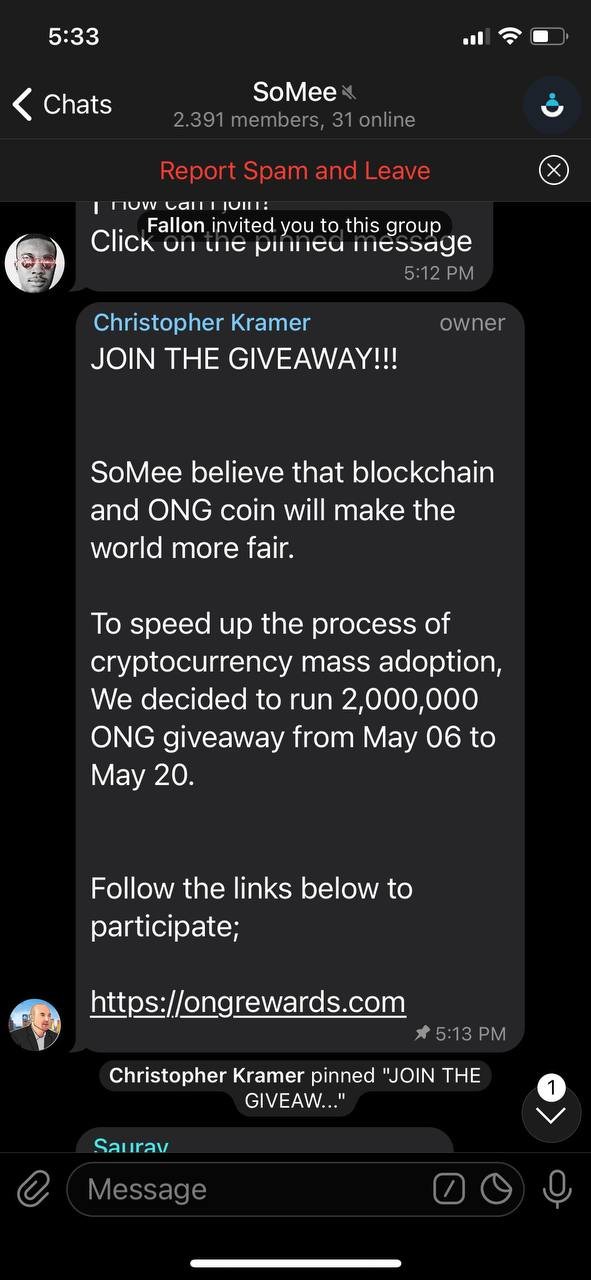 The text of this scam is as follows:
JOIN THE GIVEAWAY!!!

SoMee believe that blockchain and ONG coin will make the world more fair.

To speed up the process of cryptocurrency mass adoption, We decided to run 2,000,000 ONG giveaway from May 06 to May 20.

Follow the links below to participate;

https[:]//ongrewards.com (please do not go to this link)
These scammers are not affiliated with SoMee, and we do not condone scams like this.
What you should know:
We are not doing giveaways like this. And, if we were going to do a giveaway, we would do it on our official channels, not via private telegram.
What you should do?
Telegram is a great platform for security - but it has its limits - most notably it is rampant with scammers and other bad actors. You should adjust your security so that your account doesn't receive invites or auto additions to GROUPS or Channels without your permission.
You can usually do this by following these instructions:
Go to Settings
Click Privacy
Click Groups & Channels
Change the Who can add me options to just My Contacts or off.
What to do if you've been scammed?
Report the site that scammed you to local law enforcement - and continue to let us know. We will do anything we can to protect our communities.